Heya heya, everybody!
Wow, it's already November 3rd, and I haven't written since before that most "hallowed" of holidays (ha).
Halloween!
How was everybody's Halloween this year?
Good, I hope!
I must say, ours was a lot more mellow this year. It was a drizzly day, William napped late (and me with him!) and we weren't able to get our act together as a family this year because of a moody baby and computer-bound Dash.
Last year, we all went as Totoros, which was awesome!!
Dash and I were 大トトロ, Ella was a 中トトロ, and little William was a ちびトトロ.
I made the outfits using thrift shop finds with a little bit of sewing, and we were all nice and comfy warm in the wet NW October weather.
We went downtown for treats from local businesses, and did enough trick-or-treating in Albany that we amassed quite a stash of candy that has somehow survived to this day. @_@
Anyway, so that was last year.
This year, the Dashiells planned on going as the cast to another Ghibli film:
Kiki's Delivery Service
!
I've mentioned this delightful children's movie before regarding
Ella's 2nd birthday
, and indeed it is dear to all our hearts. :)
The cast was follows:
Ella = Kiki
William = Ket/Jiji's girlfriend
Chrissy = Ursula
Dash = Tombo
Ella Rose is such a natural Kiki!
Just check it out:
Kiki's a friendly witch who makes deliveries on her broom!
I love that smile of hers :)
Unfortunately, I have zippo snapshots of her with her broom, but I assure you it was the perfect prop for her. Love the Jiji plushie too, eh?
Her whole outfit cost $0 in that she already had the broom from Goodwill some years ago, her bow was a ribbon saved from a gift, Jiji was a present to us, and her dress was from a clothing swap. Score!! :)
Here is William's "character":
Oh, my god! First animated gif on my blog ever!!!!
That's right, he played a fluffy female cat -- the "love interest" of Jiji.
He was feeling less moody by now
His costume was just a lamb costume with "cat" face paint on. Ha!
The lamb costume was also a clothing swap score and the "face paint" was just eyeliner somebody had given me. Cheapest costumes everrrrr!! Gosh, he didn't even have ears, so people would see the little tail and say "what a cute lamb!" but then see his face and go "...wait, he's a cat~?" So he gets an A+ for ambiguity ;)
My character, Ursula, his plain as plain can be so I don't think many people thought I was dressed up at all.
Check it: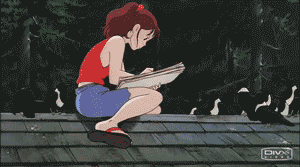 Two animated gifs in one post! What??
Ursula's an artist that Kiki meets, so that it was pretty fitting of me to be her for Halloween.
Plus, I've got the ponytail hair and her outfit in my closet already - ha!!
To make
some
attempt at looking dressed up, I stuck a couple paintbrushes in my ponytail. Besides that, I just looked like somebody poorly dressed for the weather.
All in all, it was fun pretending to be the characters and throwing quotes around to one another...but exactly 0 people recognized who we were, or even knew the movie. HA!!
Oh, and here is who Dash was supposed to be:
Tombo is a geeky aviation aficcionado, and a good friend to Kiki
I swear Dash is such a natural Tombo!
The glasses, short hair, goofy smile, and even the outfit is something he could've pulled outta his closet!
Alas, not this year...
Hopefully, next year we'll be able to all go as a family and this time be something that people can recognize~
And, most important of all, something warm!!!!
Well, with that I bid you adieu.
Hope you all are looking forward to November -- I know I am!! -- and until next time take care and Happy Belated Halloween Posts!!
One last crescent-moon-eyed Ella photo for you ;)